Events
24th March 2022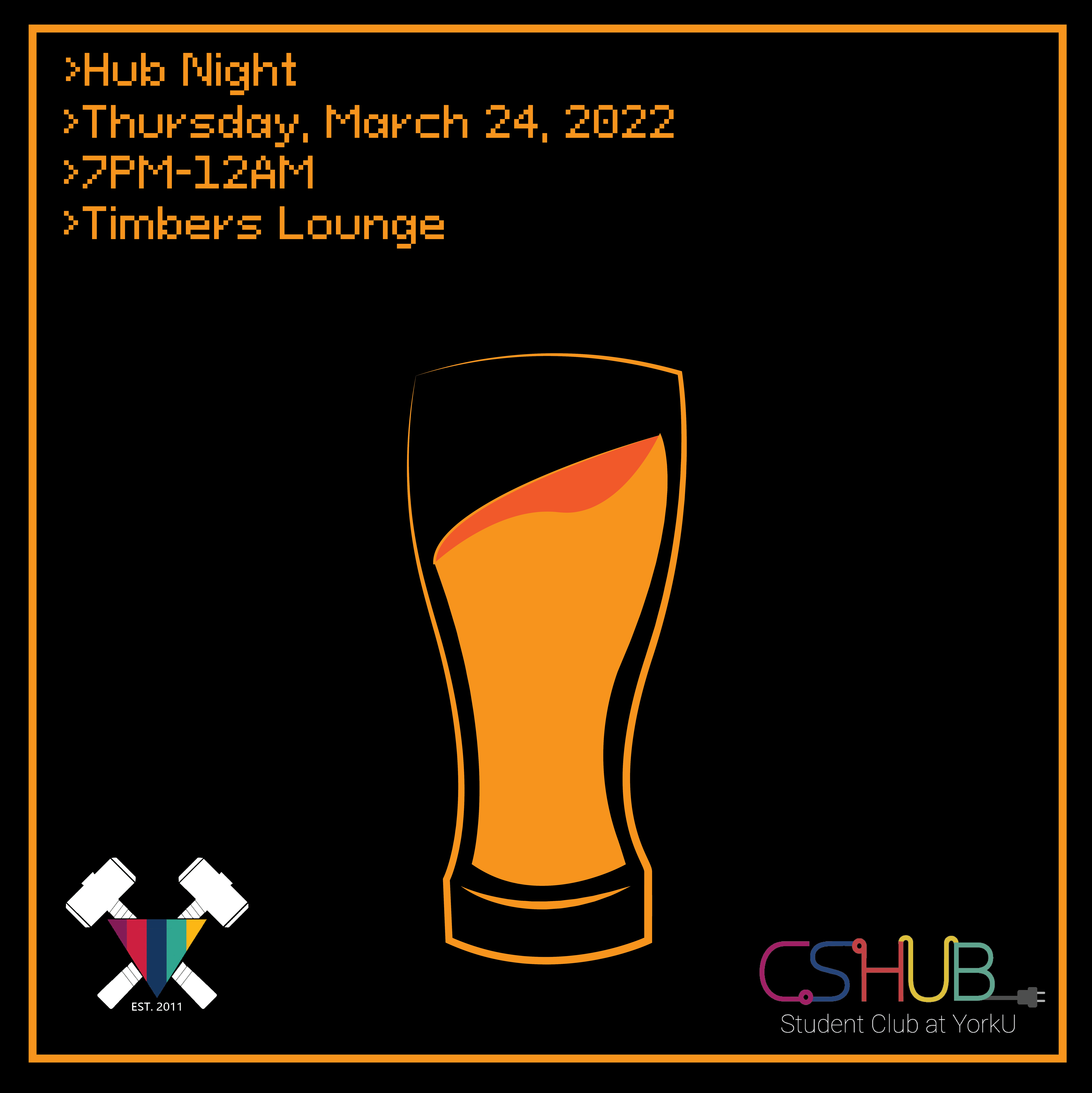 We had partnered with Lassonde Engineering Society to host "HUB NIGHT" It took place at Timber's Lodge at York Lanes on Thursday, March 24 from 7pm-12 am.
22th March 2022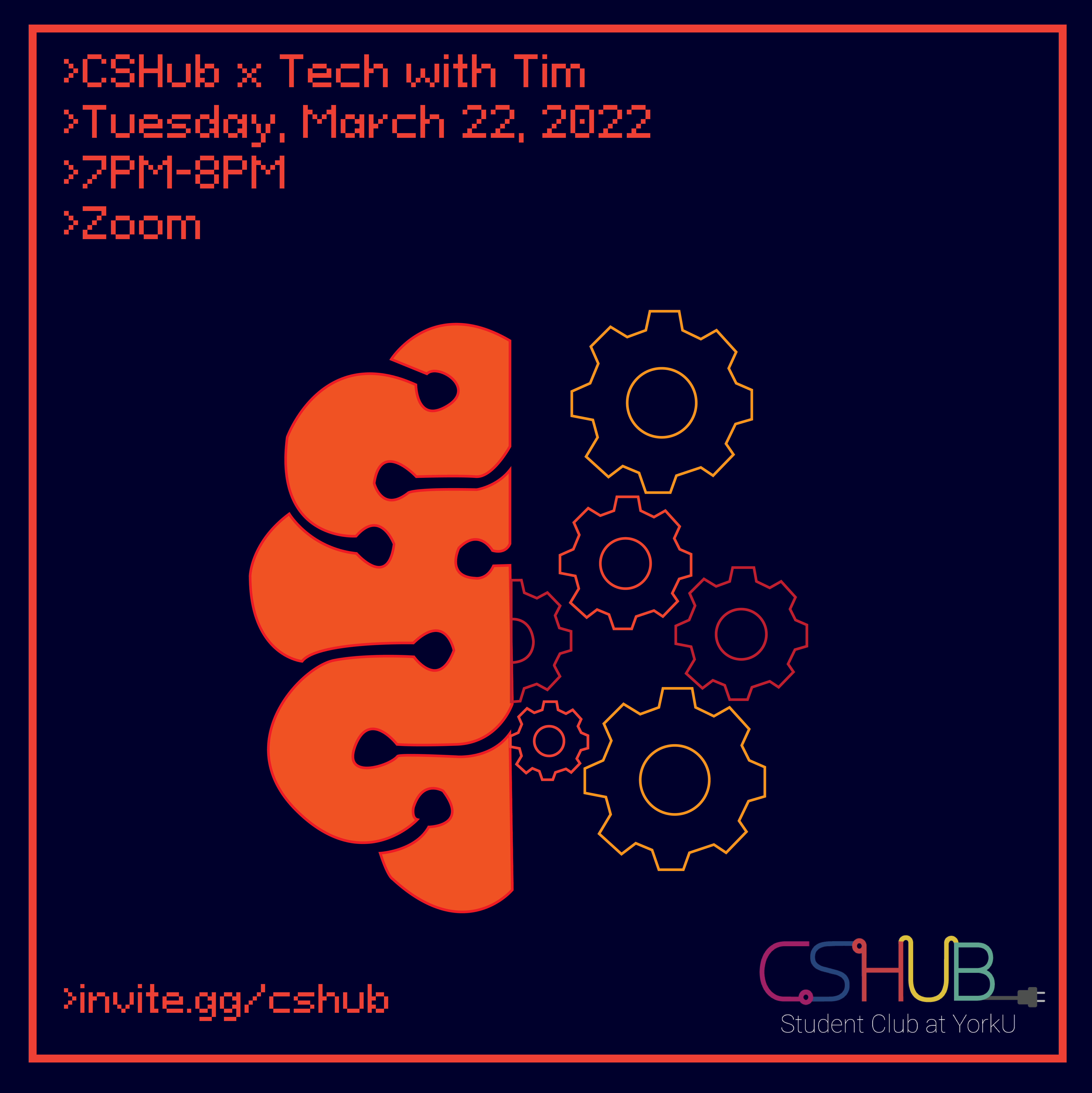 We had the chance to hear from a popular tech Youtuber, TechWithTim on Tuesday March 22, 7 - 8PM on Zoom! Students heard about his experiences with technology, software development, and entrepreneurship. He also provided advice to students and helped them by answering their questions.
20th March 2022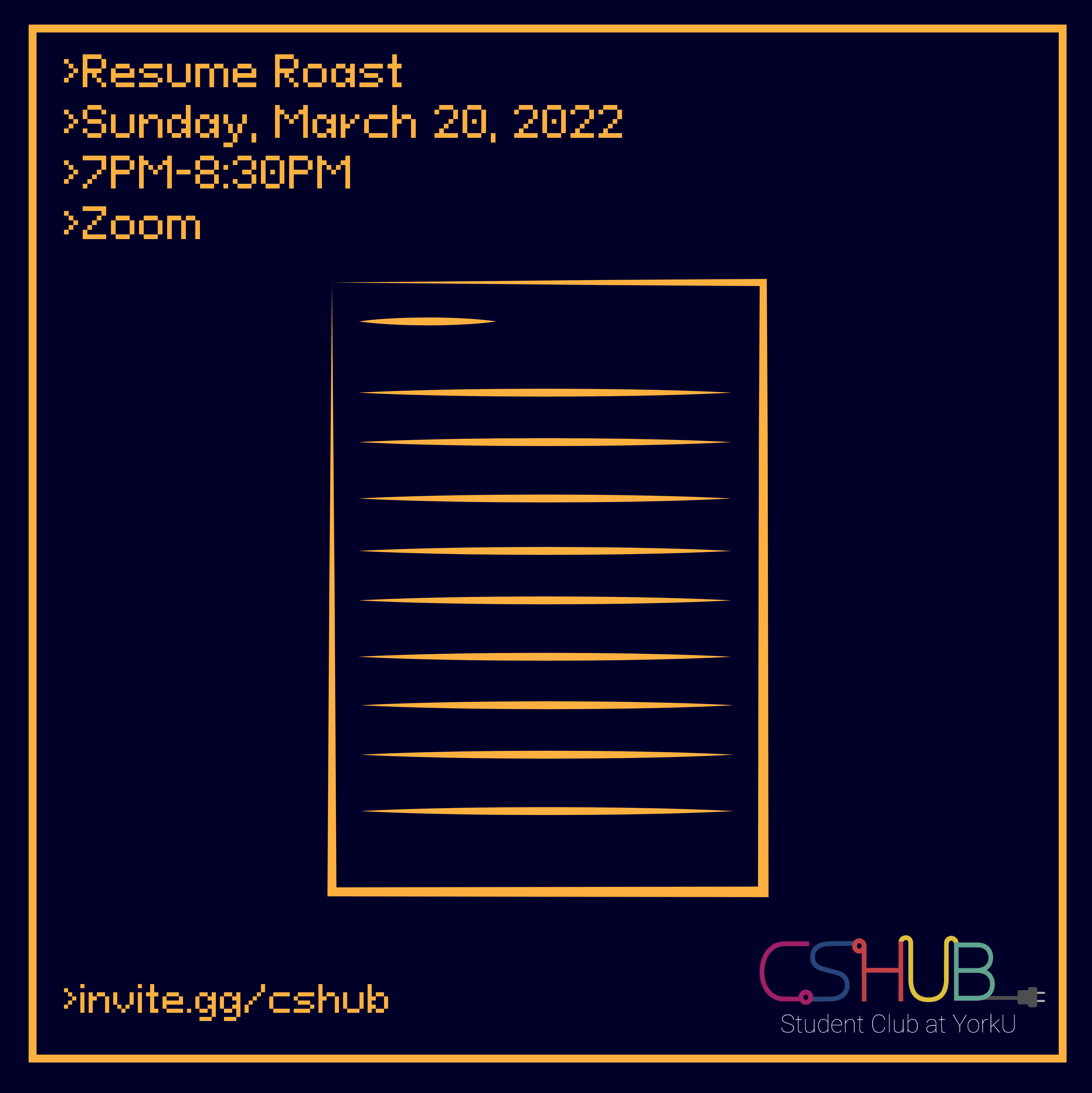 We had hosted Resume Roast on Sunday, March 20, 7 - 8:30 PM on Zoom! Students submitted their anonymized resumes to be critiqued by some students who have had jobs in software development. Students also learned how to improve their resumes!
14th to 19th February 2022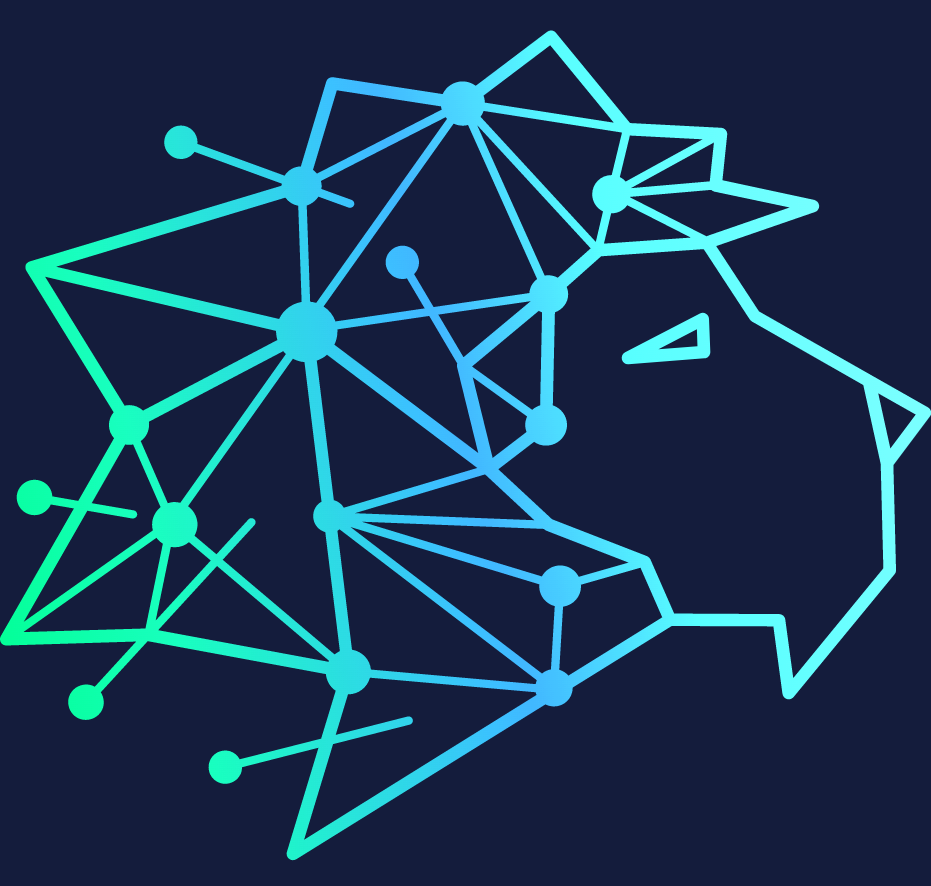 From February 14th to 17th, yuHacks hosted a series of online workshops in collaboration with CSHub for students to attend for free, and from February 18th to 19th was the actual hacking time! The winners of yuHacks were awarded prizes such as gaming systems, gift cards, technical gadgets, and cash prizes! Hundreds of hackers and mentors participated at yuHacks 2022.
4th February 2022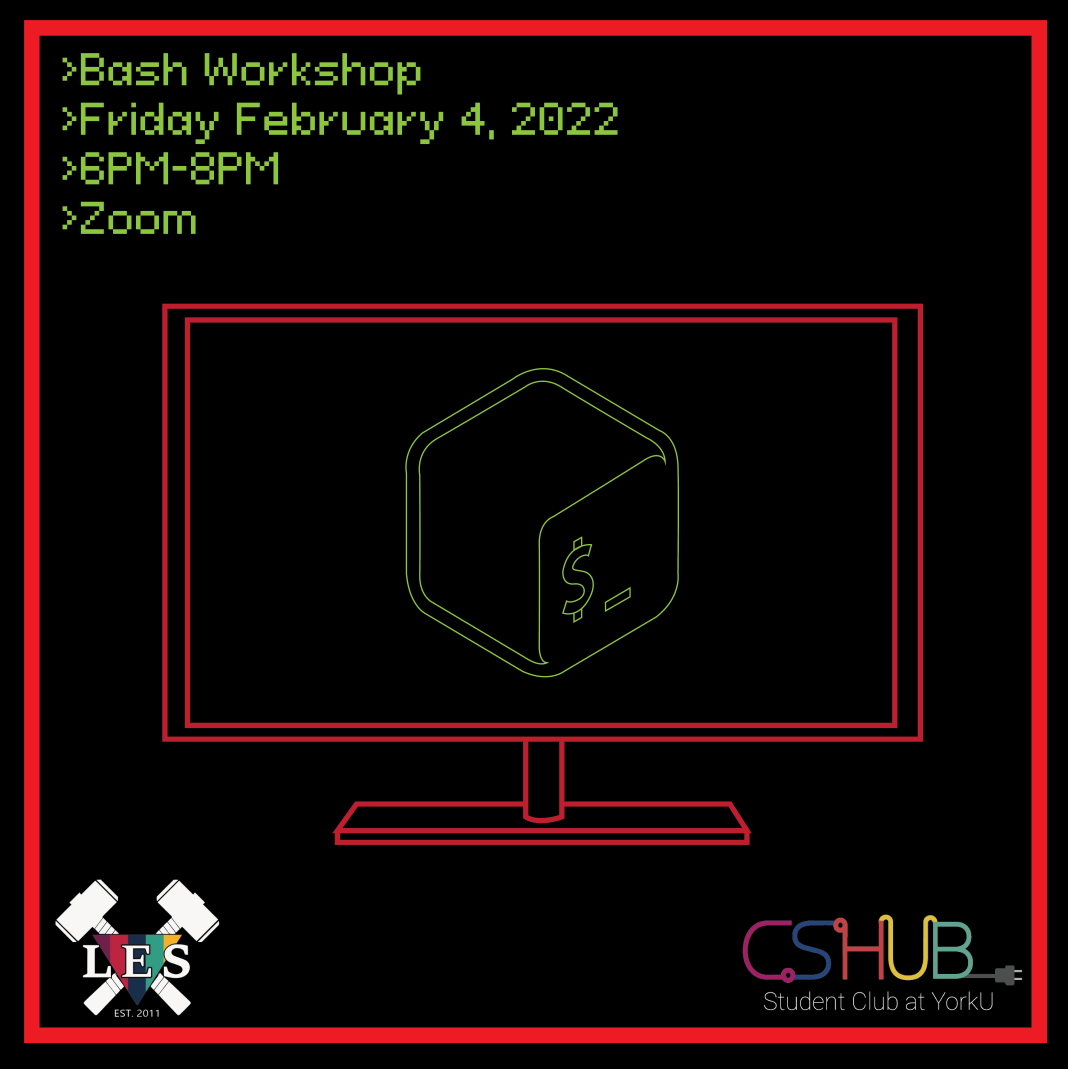 The workshop on Bash was hosted on Friday 4th February 2022, from 6:00pm - 8:00pm. LES and CSHub had "Bashed" their computer With Linux
2nd February 2022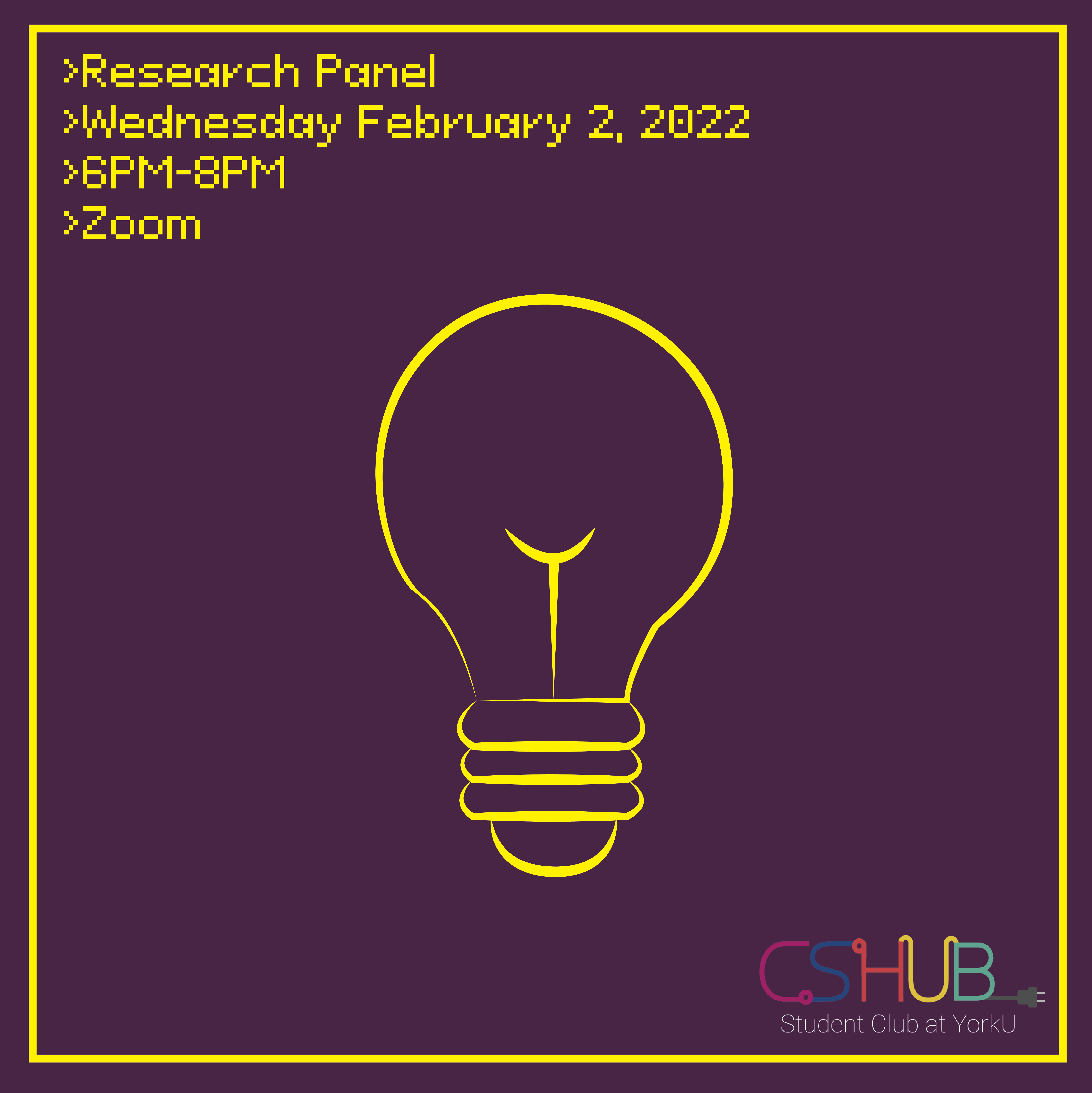 We had hosted a Research Panel on February 2nd from 5:00pm - 6:00pm on Zoom. CSHub hosted the panel with Professor Suprakash Datta and two undergraduate students who have previously held this position. Students got the opportunity to learn about the benefits of undergraduate research and the application process. They were also provided with suggestions on the application process.
14th January 2022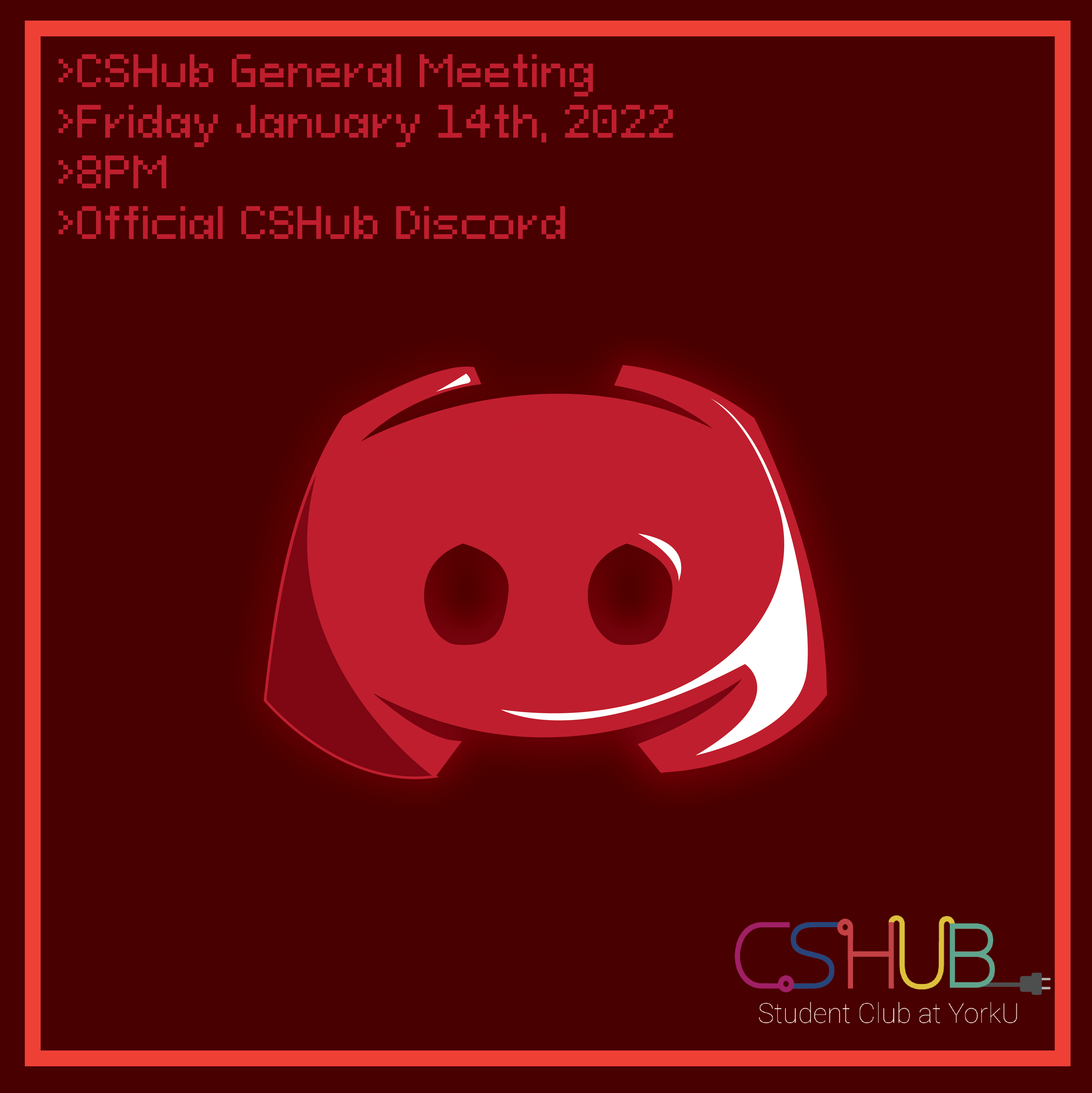 We had hosted our first meeting of 2022 on Friday, January 14th, 2022, at 8 pm EST. Our goal for the meeting was to keep everyone updated with what was going on CSHub. We had revealed our upcoming events of 2022 and what to expect moving forward. We also had our discord & chill night right after, where we had played online games.
1st December 2021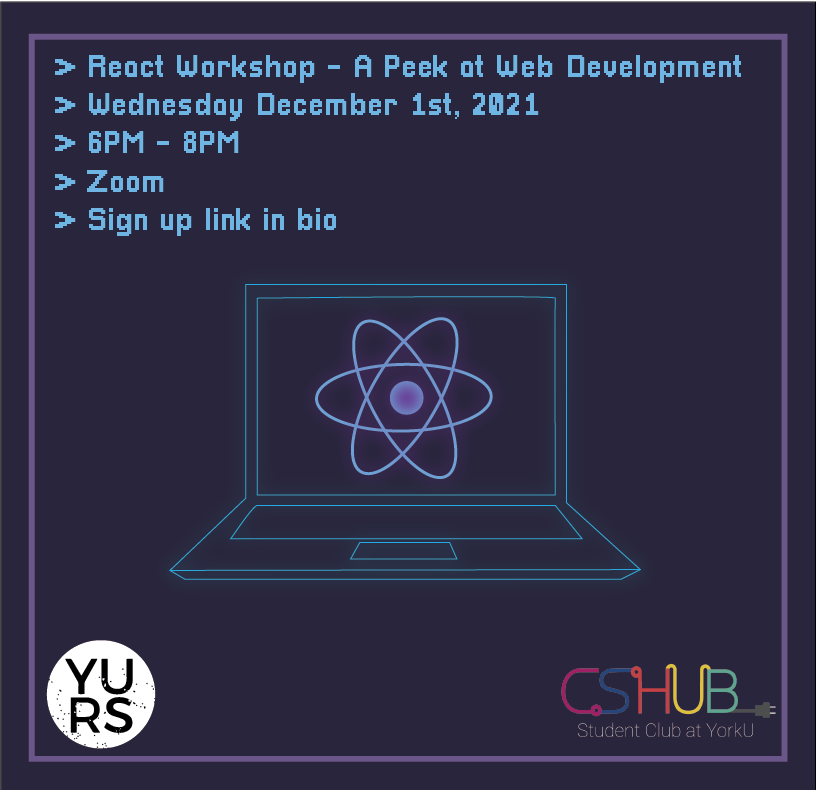 The workshop was hosted on Wednesday, December 1st, 2021, from 6-8pm. We hosted this workshop to teach participants the way of building a website using JavaScript and React. React is a library created by Facebook using JavaScript to help build responsive websites, and it's very beginner-friendly. Participants were required to install a few things before the event began. Things they had to install were as follows: 1) node.js 2) Visual Studio Code 3) Git Bash (Windows users only).
8th November 2021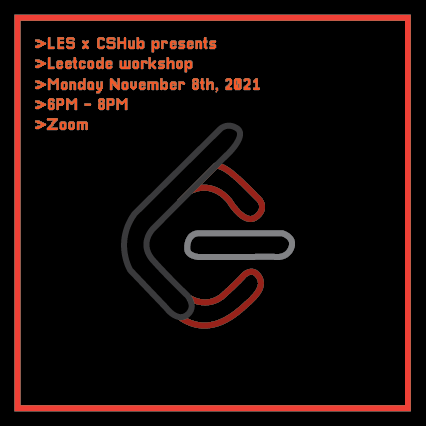 We had partnered with the Lassonde Engineering Society to host a Leetcode session on November 8th, 2021, from 6-8 pm. We had solved problems from all categories (Easy/Medium/Hard). There were mentors who had helped participants to solve Leetcode problems during the event. Leetcode is a website where you can solve problems that companies ask about during coding interviews. Participants were not required to have prior experience as we had shown them ways to approach the thought process of the problems.
4th November 2021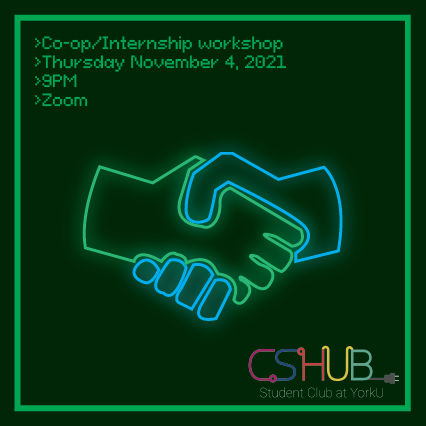 We had hosted our very own Co-op panel by the help of students who did Co-op in the past. Our hosts had shared their Co-op experiences and gave the participants a brief idea of what they were to expect. We had hosted this Co-op panel on Thursday, November 4th at 9 pm.
25th October 2021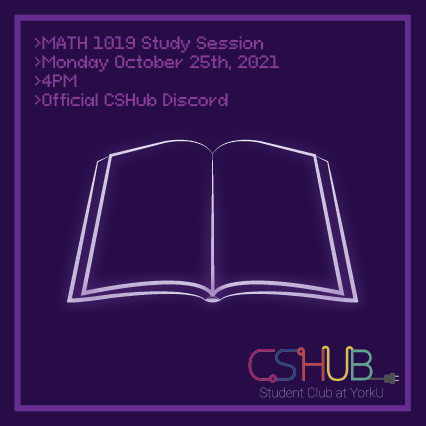 We had hosted the MATH 1019 midterm review session on Monday, October 25th, 2021, at 4 pm EST. We had prepared some sample questions for the participants to help them ace their midterm.
15th October 2021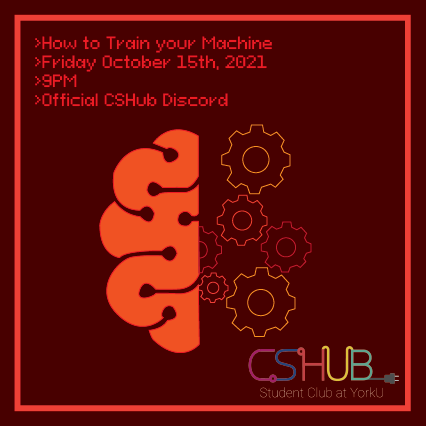 We had hosted the intro to Machine Learning workshop named "How to train your machine" on October 15th, 2021, at 9 pm EST. We gave participants an insight into Machine Learning and encouraged the participants who wanted to choose the field of Machine Learning.
7th October 2021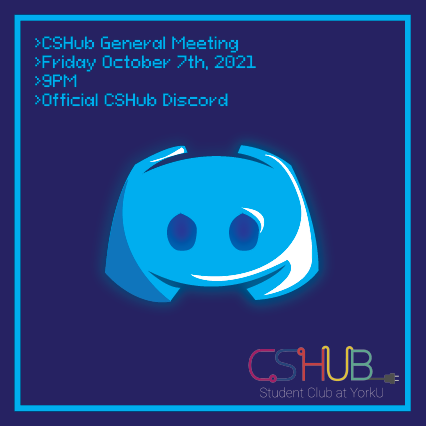 We hosted our first General Meeting of 2021-22 on October 7th, 2021, at 9 pm. Everyone was welcomed and encouraged to join the club. By the end, participants got to know about our plans and met with executives and other fellow members. New members were encouraged to join and interact with existing members to get to know our community. We had also hosted our weekly social night after the general meeting where we had played online games.